Additional CHARLESGATE Services
As a comprehensive real estate solution, we deliver more than property management and leasing services!
Revive Renovations
Revive Renovations is a Boston-based boutique-style construction firm specializing in restoration, remodeling, and construction consulting.
Our client-focused approach and extensive experience in real estate and construction set us apart from other contractors in the Boston area. Our experts uncomplicate the construction process for our clients and deliver quality projects—on time and within budget.
We are the best "go-to" choice for general contracting needs. Choosing CHARLESGATE and Revive Renovations means you get individualized attention and the resources to enjoy a quality project with value.
Maintenance & Repairs
While many of our clients have extensive expertise in various aspects of property ownership, few have experience managing mechanical systems and performing maintenance and repairs. Choosing CHARLESGATE means you can depend on our expertise and team of preferred contractors to ensure that your mechanical systems run efficiently and properties stay adequately maintained.
We extend the same customer service you expect from your CHARLESGATE property management team by working with licensed and proven professionals. Our proactive approach means we plan for not only short-term repairs but long-term needs as well. Through coordinated routine and nonroutine maintenance services and annual property on-site walkthroughs, our highly-trained technicians provide recommendations and a timeline to owners for needed improvements and repairs. Our approach ensures that properties receive the attention they need now with plans to address maintenance needs down the road.
Warranty Management
CHARLESGATE Warranty Management is designed to manage all punch list and warranty management requests for new development projects. Our streamlined process includes a dedicated service line and team to focus on these issues aside from our property management experts and processes.
CHARLESGATE Property Management works on behalf of the developer and coordinates all warranty repairs with subcontractors, communicating with the developer and general contractor as required. CHARLESGATE manages each request to completion, ensuring clear communication, coordination, and detailed tracking of all work completed.
Project Management Services
A Team You Can Trust
Our project management services are robust and cover everything from initial project planning through execution. We serve as your representative throughout the process, always acting in your best interest. When our team is involved, you can be sure the project will be done on time, and on budget. When you utilize our project management services, you'll get a single point of contact, personalized recommendations, and a partner from start to finish.
Experience Matters
Our Director of Project Management, Kelly Robbins, has extensive experience in Property Management and also holds a Massachusetts Unrestricted Construction Supervisor's License. When you engage with our services, we:
Identify the real problems facing your building.
Create a complete job scope to resolve them.
Assess and make recommendations to involve the right team members including Architects, Engineers and Contractors.
Prepare for neighborhood, zoning, and planning approval meetings, pull the appropriate permits where needed.
Supervise the project through completion.
Our step-by-step involvement ensures the work is done right, on time, and on budget.
Finding The Right Fit
We have a wide range of reputable contractors to fit projects small and large. Here's why that matters:
We ensure the right contractors are competitively bidding on your project.
We supervise all parties involved to ensure the work being done is high quality and steps are taken to avoid errors and costly change orders.
We make sure contractors and stakeholders are aligned every step of the way with regular status updates and progress check-ins.
We know how important every dollar is and we make sure you don't end up with a blown budget.
Transparent Pricing
We believe in transparent and fair pricing.
You'll know the price up front, no bait-and-switch once the project is complete.
With years of experience managing projects both small and large, we've established a reputation for delivering a high-quality product, on time, and on budget.
Our project management services cost 10% of the net project cost.
Where The True Value Lies
The value of having a dedicated project manager, who has specific construction management experience and strong relationships with top-tier vendors can't be overstated. Take the guesswork out of your project planning. Stop worrying that you're getting less than what you paid for. With our team involved, you can rest assured that your needs are being met, your budget is being kept, and the end result will exceed your expectations.
Free Portfolio Analysis
Enter the address (or addresses) of investment properties in your portfolio to get a free assessment.
CHARLESGATE experts review your properties.

Our team boosts your profits the CHARLESGATE way!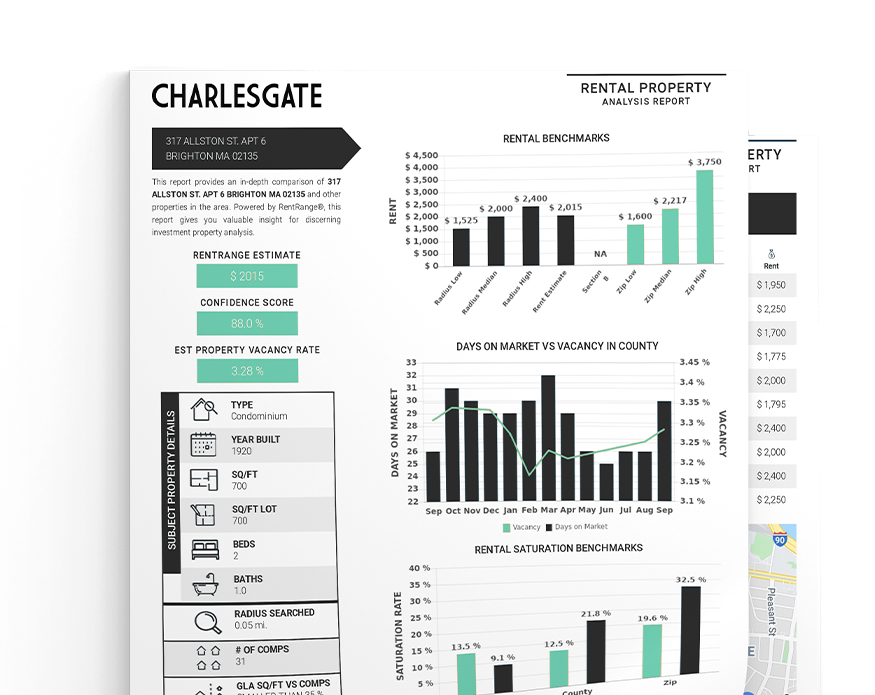 Who Do We Serve?
We proudly serve investors and various building types throughout Boston. Click below to see some of the properties we currently manage in our portfolio.
Ready To Get Started?
Speak with one of our experts.
Help us learn your goals as an investor.
Choose a custom package based on your needs.
Let us handle the rest!